Things To Do
Golf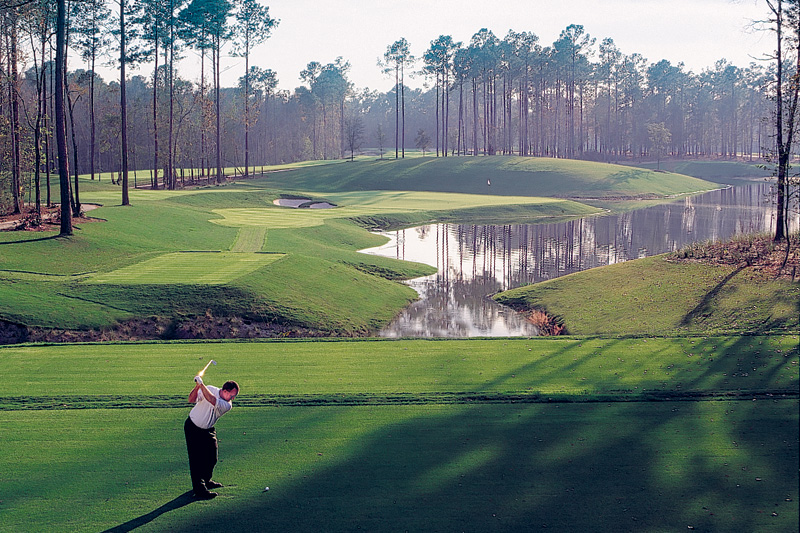 With more than 100 courses in the area, Myrtle Beach is a golfer's vacation paradise. You will not have to drive far from Ocean Reef Resort to take in some of Myrtle Beach's top-rated courses. Grande Dunes and Barefoot Resort are less than 10 miles from Ocean Reef Resort.
Grande Dunes Golf Club is in the neighborhood of Ocean Reef Resort. Make a truly unforgettable memory with 18 holes of golf at Grand Dunes Golf Club. This South Carolina golf course is uniquely located on the Intracoastal Waterways with views of the Dunes Marina and Resort. It is not every day that you tee off as a yacht floats past. Grande Dunes was recently rated "The National Golf Course of the Year" by other golf course owners for the exceptional quality of the course, quality of the management as well as contribution to its Myrtle Beach community.
If you would like to explore the Myrtle Beach area a little, there are golf courses that are more than worth the drive. Less than 20 miles away from Ocean Reef Resort, you will find Myrtle Beach's Tidewater Golf Club known as one of the most spectacular courses on the East Coast. Further afield, for instance, in Pawleys Island, South Carolina you could try Caledonia Golf and Fish Club. It was once a South Carolina plantation, but still boasts magnificent 150-year-old trees.
While on your Ocean Reef Resort vacation, take the entire family for a day out at Barefoot Resort & Golf at the nearby Barefoot Landing. The golfers in your group will have their choice of four courses at Myrtle Beach's Barefoot Resort & Golf. The Dye, Fazio, Norman, and Love Courses are named for their world-famous designers and each has its own distinct personality. They all incorporate South Carolina Lowcountry elements like the magnificent ruins of an old plantation home that are beautifully incorporated into Dave Love III's course.
For the other members of your Ocean Reef Resort vacation group, Barefoot Landing has all the shopping, entertainment and dining options anyone could want. Feel like you have entered a chic, exclusive waterfront resort town for the day. Ladies will enjoy famous labels like Chico's and White House Black Market as well as many boutiques offering one of a kind clothing and jewelry. Pick up your favorite Myrtle Beach souvenirs at Ron Jon Surf Shop. Organize a day out on the water at Salt Shaker Boat Tours. Experience South Carolina's Intracoastal Waterway like never before in a Craig Cat, a two-person boat nicknamed the aquatic armchair. Two other one of a kind Myrtle Beach experiences that you can find at Barefoot Landing are the 7D Cinema and T.I.G.E.R.S Preservation Station. Meet Ramses the baby cheetah, Bubbles the African elephant or Stripes a Bengal tiger cub.
After a day on the links, join your Ocean Reef Resort group together for an amazing meal or show. At Myrtle Beach's Barefoot Landing, you will find The House of Blues, Joe's Crab Shack, and Stillhouse BBQ just to name a few. But, also in the area, you will find Cracker Barrel, Fuddruckers, and Nakato Japanese Steakhouse. There really are more dining options in Myrtle Beach than you can ever imagine.
Entertainment
During your stay at Ocean Reef Resort, spend your days by the pool or on the beach, but make time to take in the phenomenal Myrtle Beach entertainment. One of the most popular Myrtle Beach destinations for entertainment and recreational experiences is at Broadway at the Beach. Just less than five miles away from Ocean Reef Resort, you will find Legends in Concert and Carolina Comedy Club. During the day, take your entire Ocean Reef Resort group to laser tag or ziplining at Wonder Work's. Get up close and swim with stingrays, dive with sharks or keep your feet on dry land and watch one of the many live shows like jellyfish feeding at Myrtle Beach's Ripley Aquarium. When the Myrtle Beach sun sets and things cool off, take the gang mini golfing at Dragon's Lair Fantasy Golf.
If anyone in your Ocean Reef Resort vacation group loves live entertainment, then The Carolina Opry Theatre and Alabama Theatre are must sees. The Carolina Opry performances is a two-hour music and dance performance is highly acclaimed as "Myrtle Beach's Top Attraction". If you are looking for a music experience that spans the generations, The Carolina Opry Theatre also has the fast paced, high energy Time Warp show that has performances with songs from the 60s, 70s and 80s. Not to be outdone, Myrtle Beach's Alabama Theatre offers One - The Show. It promises huge production numbers with captivating special effects and songs that range from country and bluegrass to Broadway and rock.
Dining
The wide variety of restaurants and dining options in Myrtle Beach is definitely one of the many reasons why it is a beach vacation destination. Just minutes from Ocean Reef Resort, there are more dining options that you can imagine. At Carrabba's Italian Grill, try the Italian food you love with a Myrtle Beach seafood twist. Try their delicious Lobster Ravioli or Fettuccine Alfredo with sauteed shrimp. Create your own wood fired pizza or go with the old favorite, Chicken Parmesan. They even have gluten free and lower calorie options for those with dietary concerns. Also in the neighborhood of Ocean Reef Resort is Bonefish Grill, a nationwide seafood restaurant known for its mouthwatering specialties like Crab Crusted Alaskan Cod and Pecan Parmesan Crusted Rainbow Trout. Or watch the sunset over the Atlantic Ocean while enjoying a juicy hamburger at oceanfront burger place, River City Cafe. Share stories of your favorite Myrtle Beach vacation memories over a Blooming Onion before you tuck into one of River City's burgers like The Cheetos Burger or the Peanut Butter Burger.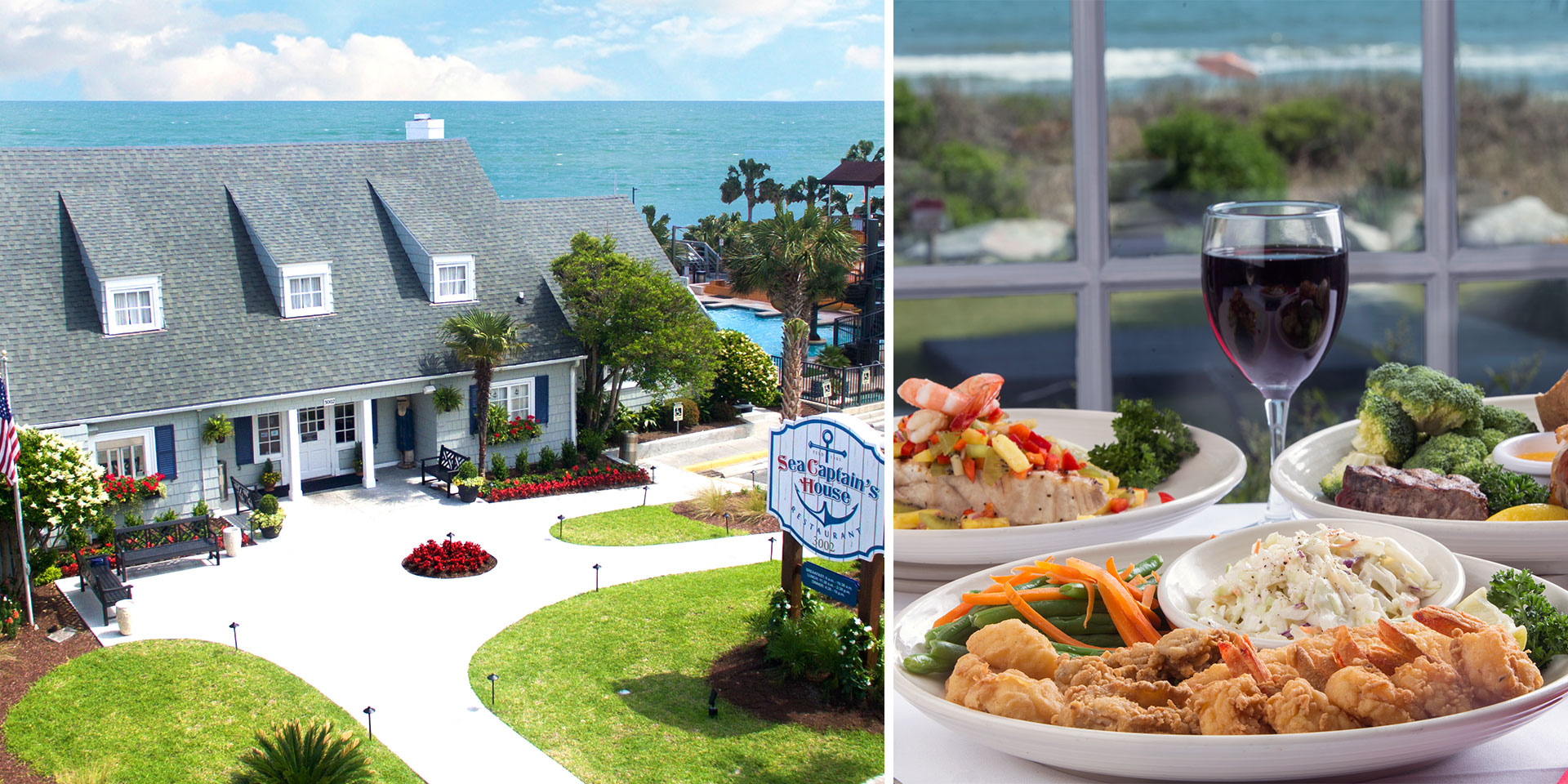 The restaurants in the neighborhood surrounding Ocean Reef Resort don't stop there. Moments from the door of your Myrtle Beach condo you will find Outback Steakhouse, Fiesta Mexicana, Cheeseburger in Paradise, TGI Fridays, Applebee's, Jimmy's Hibachi House, The Melting Pot, The China Dragon, and The Liberty Tap Room & Grill. If you'd just like to kick up your feet and watch television at your Ocean Reef Resort condo and order a pizza, all of the favorites you know and love are available. This includes Pizza Hut and Domino's Pizza, just to name a few.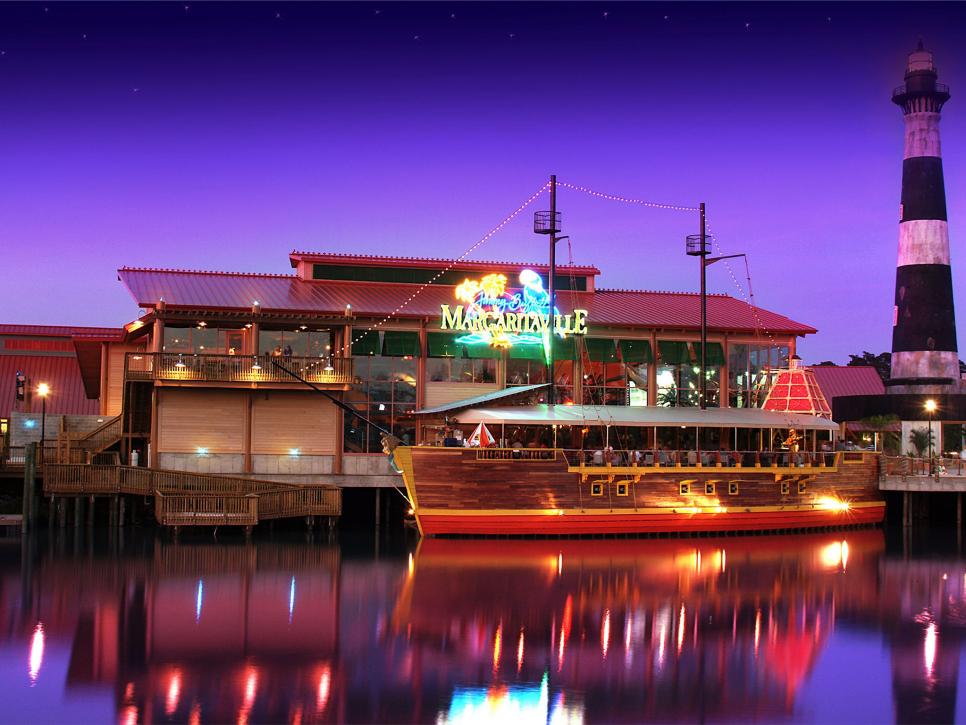 Whether you'd like to enjoy a cup of coffee from the balcony of your Ocean Reef Resort rental, make the kids some sandwiches during a lunch break from the beach, or make a delicious dinner for your family while on your Myrtle Beach vacation, you will need to buy some groceries. There are several grocery stores and food markets conveniently located near Ocean Reef Resort. Along Myrtle Beach's North King's Highway, find Publix, Food Lion, The Fresh Market and Fish Seafood Market.
Attractions
Broadway Grand Prix satisfies the need for speed for the members in your group of all ages. It offers seven go kart tracks from the Kid Track to the Family Track to the Grand Prix Pro Track. But your Myrtle Beach memories do not stop there. Broadway Grand Prix also has mini golf, an arcade, a rock climbing wall, sky coaster, bumper cars and a kids' zone featuring a carousel, The Slick Spin, and Tooter Train. Stop through the Grand Prix Cafe for vacation favorites like funnel cake, snow cones, ice cream sandwiches and a full lunch menu.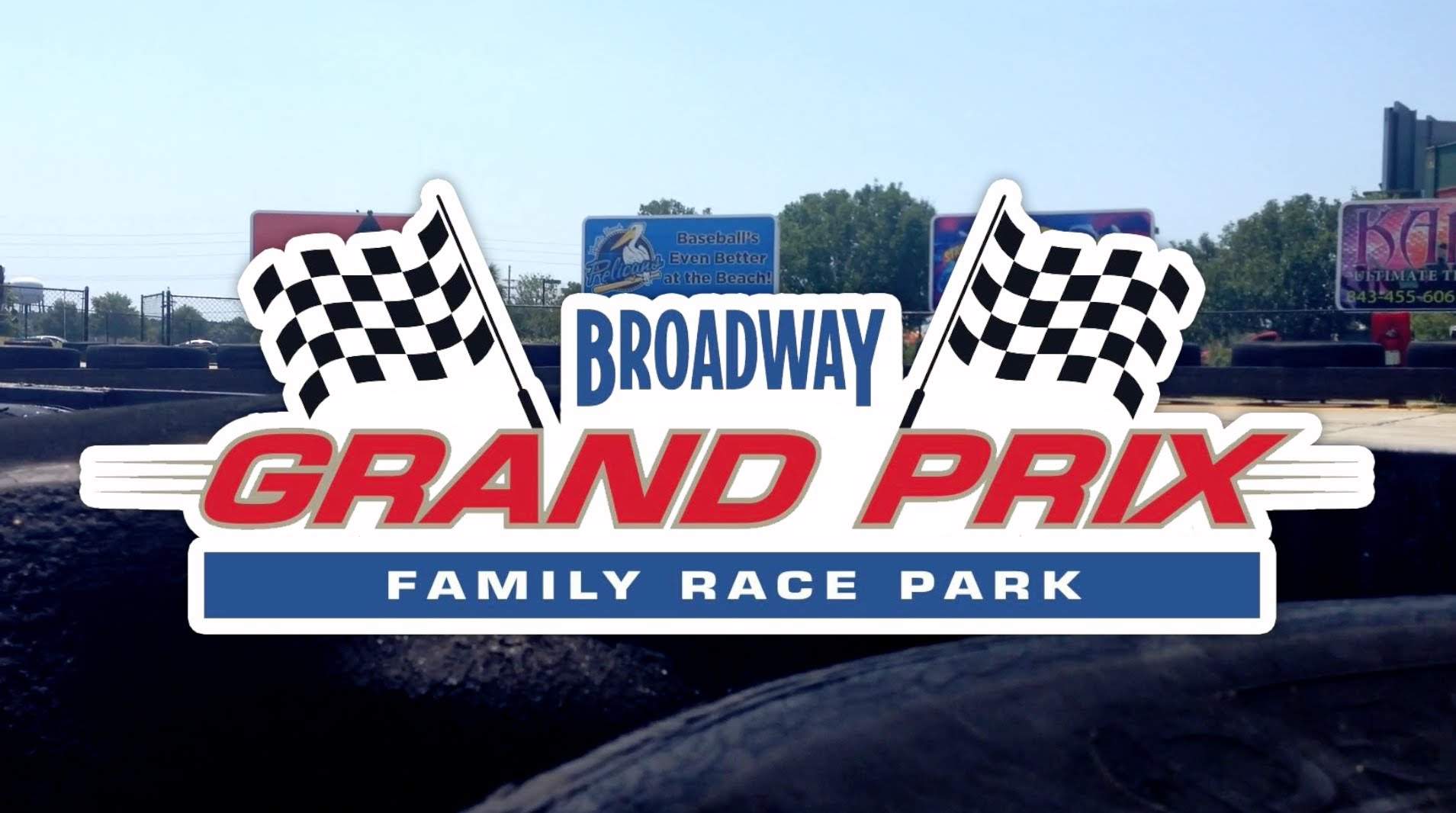 Just across the road from Broadway Grand Prix, you will find Myrtle Waves Water Park and Helicopter Adventures. If you are enjoying the pool and water park at oceanfront Ocean Reef Resort, but want to crank it up a notch, then Myrtle Waves Water Park is a great option. There are four water slides including the towering purple Turbo Twisters. The Myrtle Beach Water Park also offers more than five tube slides like The Rockin Ray, a plunging half pipe style slide made for double riders. The kids in your Myrtle Beach vacation group will love the wide variety of options. Myrtle Waves Water Park has South Carolina's largest wave pool as well as a lazy river, the faster Racin' River, and two interactive, shallow water play areas.
On your next Ocean Reef Resort vacation, take in Myrtle Beach from a whole different view at Helicopter Adventures. Mark a wedding anniversary or other special occasion with one of the many helicopter tours offered.
Another great way to see Myrtle Beach is from the water. Just a short drive from Ocean Reef Resort, there are many water sports operators that offer wet adventures like parasailing, kayak tours, paddle boarding and fish charters. Or why not see Myrtle Beach down under? There are several Myrtle Beach dive operators offering a wide variety of SCUBA diving options. Have you thought about getting your SCUBA certification while on your Ocean Reef Resort vacation? Or, if you are already certified, explore one of South Carolina's many offshore wrecks. Dive sites include everything from Civil War to the WWII USS Vermilion to a Navy A-6 Airplane. See magnificent wildlife like sea turtles, dolphins, grouper, triggerfish and barracuda in their natural environment.
Ocean Reef Resort has all of the vacation amenities a family could want and it is centrally located to take in all of the Myrtle Beach attractions you can imagine.
Property Location
Location: Oceanfront
Area: Myrtle Beach
7100 North Ocean Blvd
866-878-2720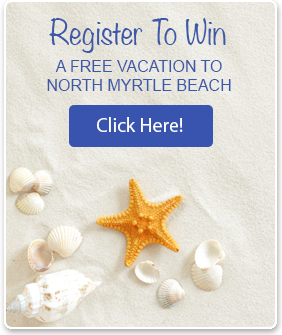 Disclaimer
Myrtle Beach Vacation Rentals is not affiliated with onsite management or the HOA of this complex.