Ocean Reef Resort Amenities
Sleeping Accommodations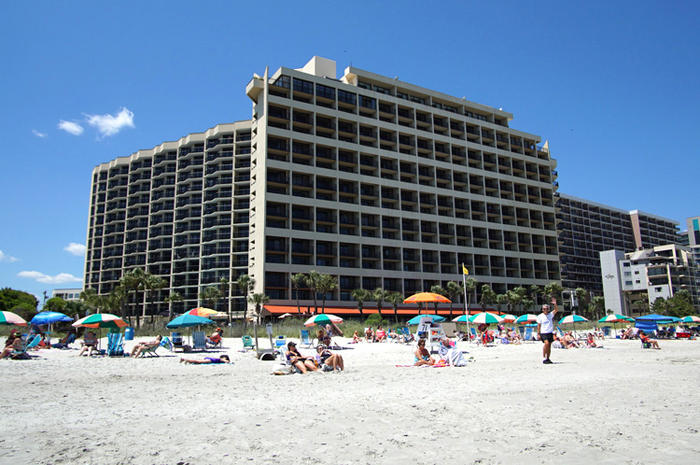 The Ocean Reef Resort condos have either one- or three-bedroom options comfortably sleeping up to six and 10 guests, respectively. There is a variety of room configurations so you can choose the right Ocean Reef Resort rental for your Myrtle Beach vacation. Both types of Ocean Reef Resort condos also include at least one sofa bed. The one-bedroom vacation condos have one full bathroom while the three-bedroom rental option has two full bathrooms. This provides ultimate convenience to larger groups staying at Ocean Reef Resort.
Condo Amenities
The rental condos at Ocean Reef Resort include several great amenities that will make your vacation rental feel like a home away from home. Ocean Reef Resort is oceanfront so all rental condos have a stunning view of the Atlantic Ocean and beach from their private balconies. All vacation rentals also have a well-stocked kitchen that includes great features like a coffee maker, microwave, oven, full-sized refrigerator, dishwasher and clothes washer and dryer. Each Ocean Reef Resort vacation rental includes a dining table so you can conveniently serve meals in your condo as often as you would like. Wireless Internet is also available so you can post your favorite Myrtle Beach vacation photos to social media all from the comfort of the couch in your Ocean Reef Resort condo.
On-site Water Attractions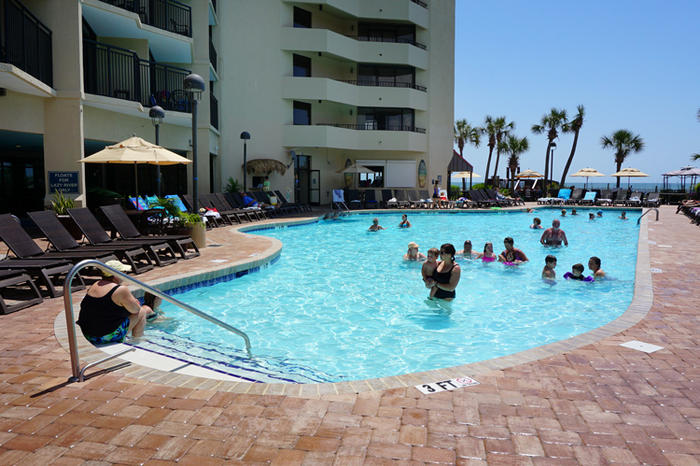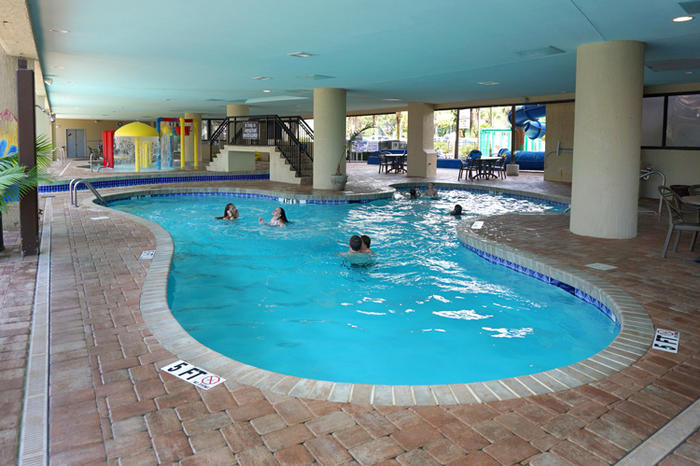 Ocean Reef Resort has both indoor and outdoor water attractions making it the perfect year-round Myrtle Beach vacation spot. Outdoors, at the oceanfront Ocean Reef Resort there is a tiki-themed water park that includes a waterfall, giant slide and kid friendly swimming pool with fun water features. This is in addition to a large outdoor swimming pool with spacious pool deck that overlooks the beach. The indoor water attractions at Ocean Reef Resort will happily entertain kids of all ages. This oceanfront resort boasts a lazy river, full sized indoor pool as well as another indoor, child friendly pool with fun water elements.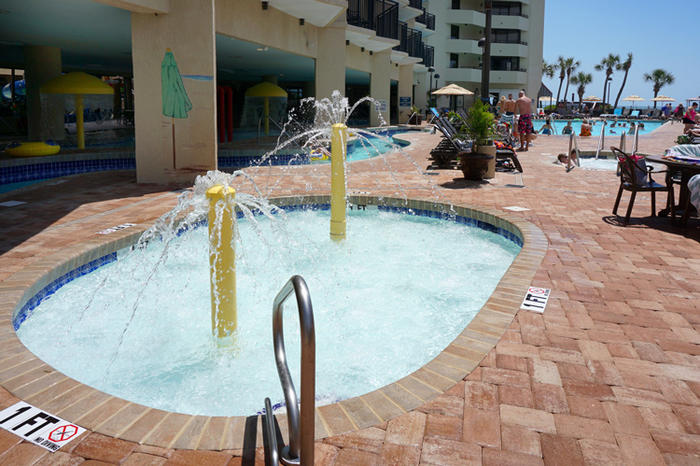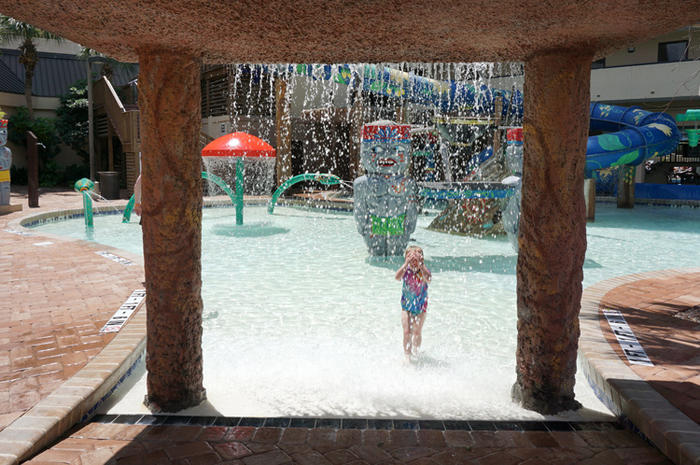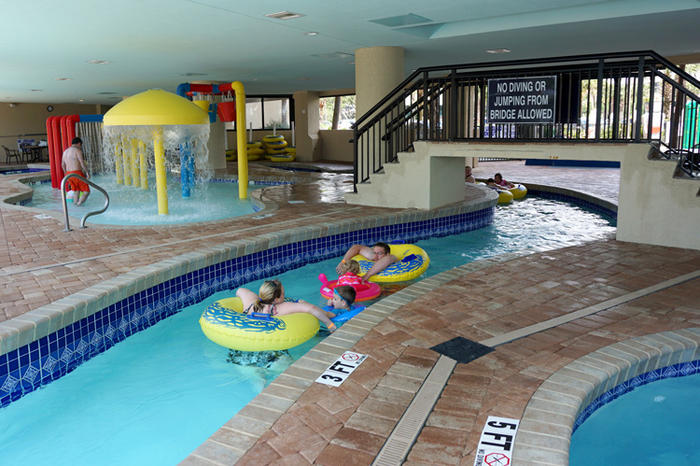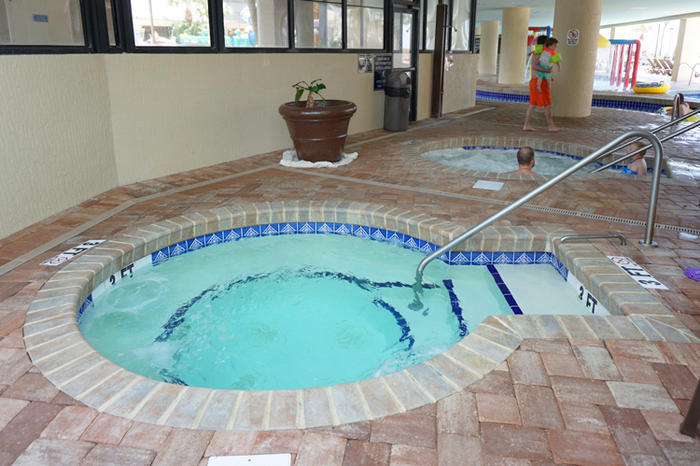 Other On-site Attractions
On a seasonal basis, the oceanfront Ocean Reef Resort offer a kids club that is free to guests. While you relax by the oceanfront swimming pool, your kids will be making one-of-a-kind Myrtle Beach vacation memories. Ocean Reef Resort is a great place for your entire group to connect by playing beach volleyball, ping pong, or chess on an oversized chess set. In Ocean Reef Resort's game room, see who can rack up the highest score on one of many arcade games. Ocean Reef Resort also offers great extras like a fitness room and gift shop.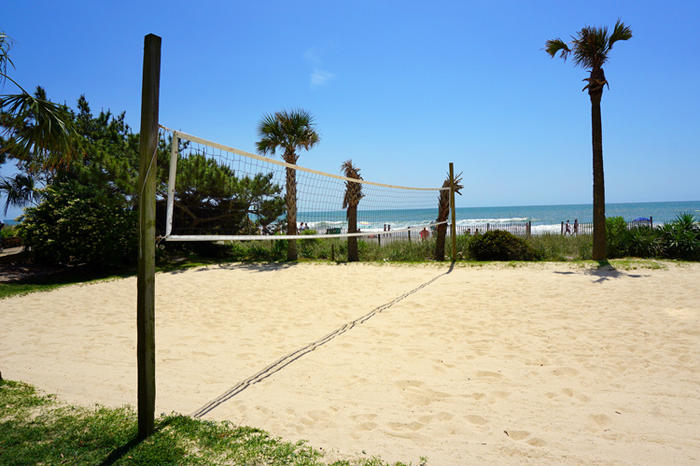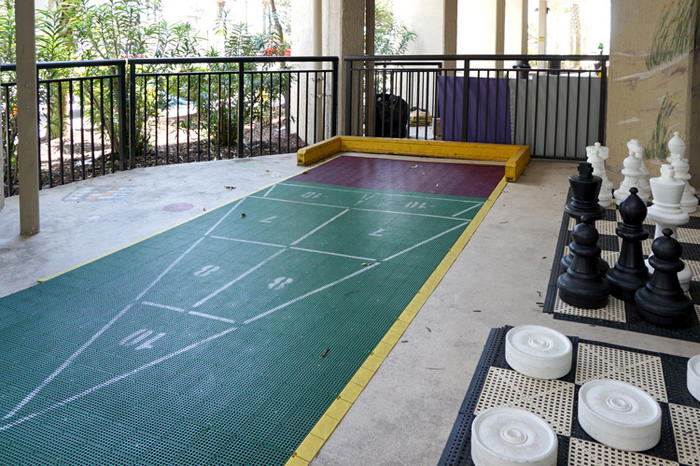 Dining
Ocean Reef Resort boasts a wide variety of eating options including a bar, lounge, restaurant and breakfast buffet. Enjoy oceanfront views that you can only get on your Myrtle Beach vacation while eating delicious food like an omelet made to order or a fruity frozen drink. All dining choices are just steps away from the swimming areas so you never have to miss a moment of vacation fun. Start your day off at Ocean Reef Resort's breakfast buffet before taking in one of many Myrtle Beach area attractions.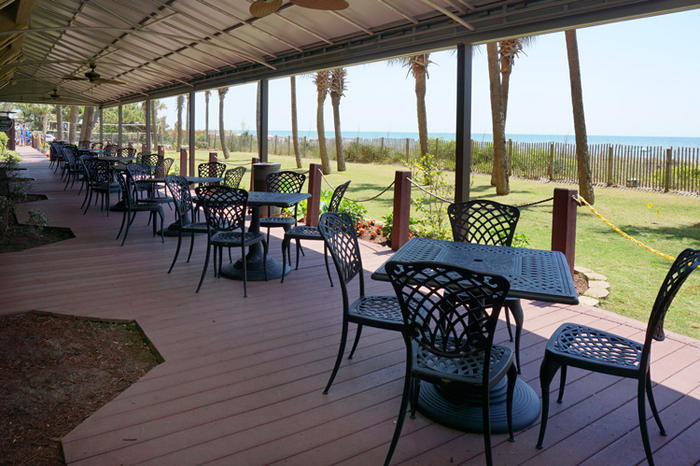 Property Location
Location: Oceanfront
Area: Myrtle Beach
7100 North Ocean Blvd
866-878-2720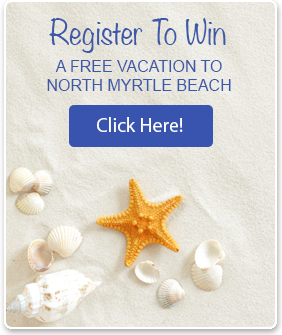 Disclaimer
Myrtle Beach Vacation Rentals is not affiliated with onsite management or the HOA of this complex.